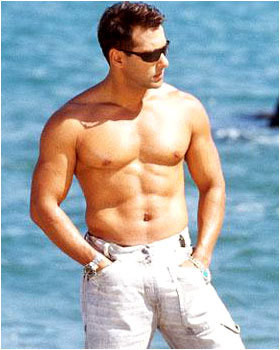 He is a very tough guy and to keep his abs in shape, he does 500 crunches, chin-ups and pull-ups. Really, he is not a normal guy. I mean, his stamina and endurance have reached the other level. So, it is not recommended to imitate him blindly. If you are a beginner and want to have a body like him, do these exercises but starting from a small figure (For example, 10 push-ups a day).
This is called `old body-building style`. He also has a great love for cycling, which is his the main cardio-vascular exercise. He cycles for atleast 10 km a day.
Salman has now become a great instructor also in Bollywood. He trained Katrina Kaif for "Dhoom 3" movie. He suggested Kaif to focus on cycling and swimming. He has also transformed Arjun Kapoor (from 140 kg to 72 kg; Arjun is the son of film producer Boney Kapoor. Arjun did his debut as an actor from the 2012 movie "Ishaqzaade") from fat to fab. There are not only two, but other instances as well, where Salman proved himself as a good trainer.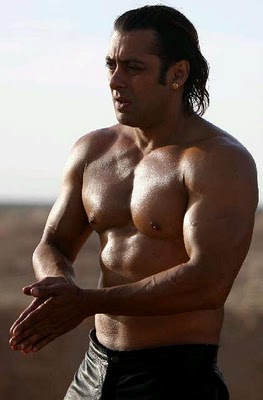 A great care has been taken to prepare Salman's workout schedule, which is as:
Monday/Wednesday/Friday
He focus on Weight Training.
Salman warms up first by doing jumping, squat thrusts and push ups.
Then, he moves to dead-lifts to develop leg and back muscles.
He does Bench Press – both (flat and inclined) for developing chest and triceps area.
Next, shoulder push press.