In addition to that, he makes sure that the kind of carb he feeds to his body is low in GI. High GI food items cause spike in your blood sugar and raise your insulin resistance, which further causes numerous diseases in your body. Food items consumed by the fab star have perfect mix of omega 3 fatty acids, and other essential nutrients.
Let's have a look at typical day diet regime of Varun Dhawan.
Breakfast – Varun prefers having omelet, oatmeal, whole-wheat grain sandwich etc. in his breakfast.
Lunch – The handsome dude likes having steamed brown rice, three chapatis, broccoli, baked chicken etc. in his lunch.
Snacks – He prefers having fruits such as papaya, banana, protein smoothie, lotus seeds, etc. in his snacks.
Dinner – His dinner being light is comprised of plenty of mixed veggies with grilled fish, green tea etc.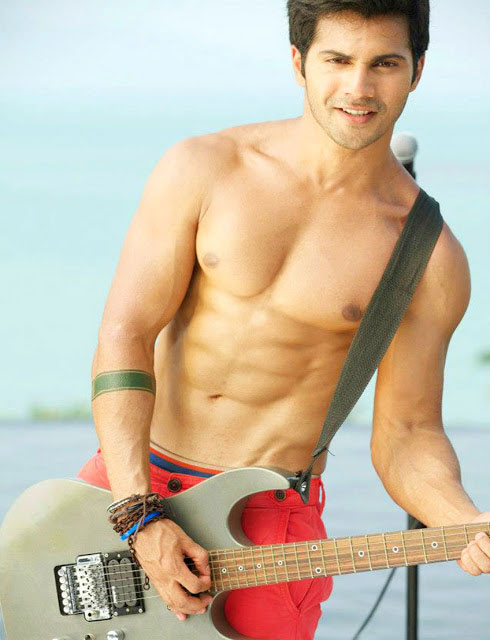 Varun Dhawan Workout Routine
The young boy gets his training from famous celeb trainer, Prashant Sawant who behind the scene is responsible for amazing physique of legendary actors, Shah Rukh Khan, Ajay Devgn, and myriad others. Varun works out five days in week while giving ninety minutes in a day to workouts.
Martial training, light weight lifting, cardio workouts etc. are some of the workouts he does on regular basis. Weight lifting is an efficient medium to tone your body. He certainly practices it, but makes sure that his weights don't cross 25-30 kgs. By altering the weights from light to hefty and then hefty to light, you can forbid weight loss plateau.
When it comes to workouts, the actor gets totally insane. He does not step away from working out twice in a day, when he has to appear on stage in front of large audience. He spends fair amount of time in sculpting his upper body parts.
HEALTHY Recommendation For Varun Dhawan Fans
Varun Dhawan recommends his fans, rather than focusing on huge and bulked up body, aim to acquire limber body. As you grow older, the natural suppleness of body begins getting down, as a result of which you become vulnerable to injuries. A lithe body not only looks influential, it is powerful too.